Schools – Learning through music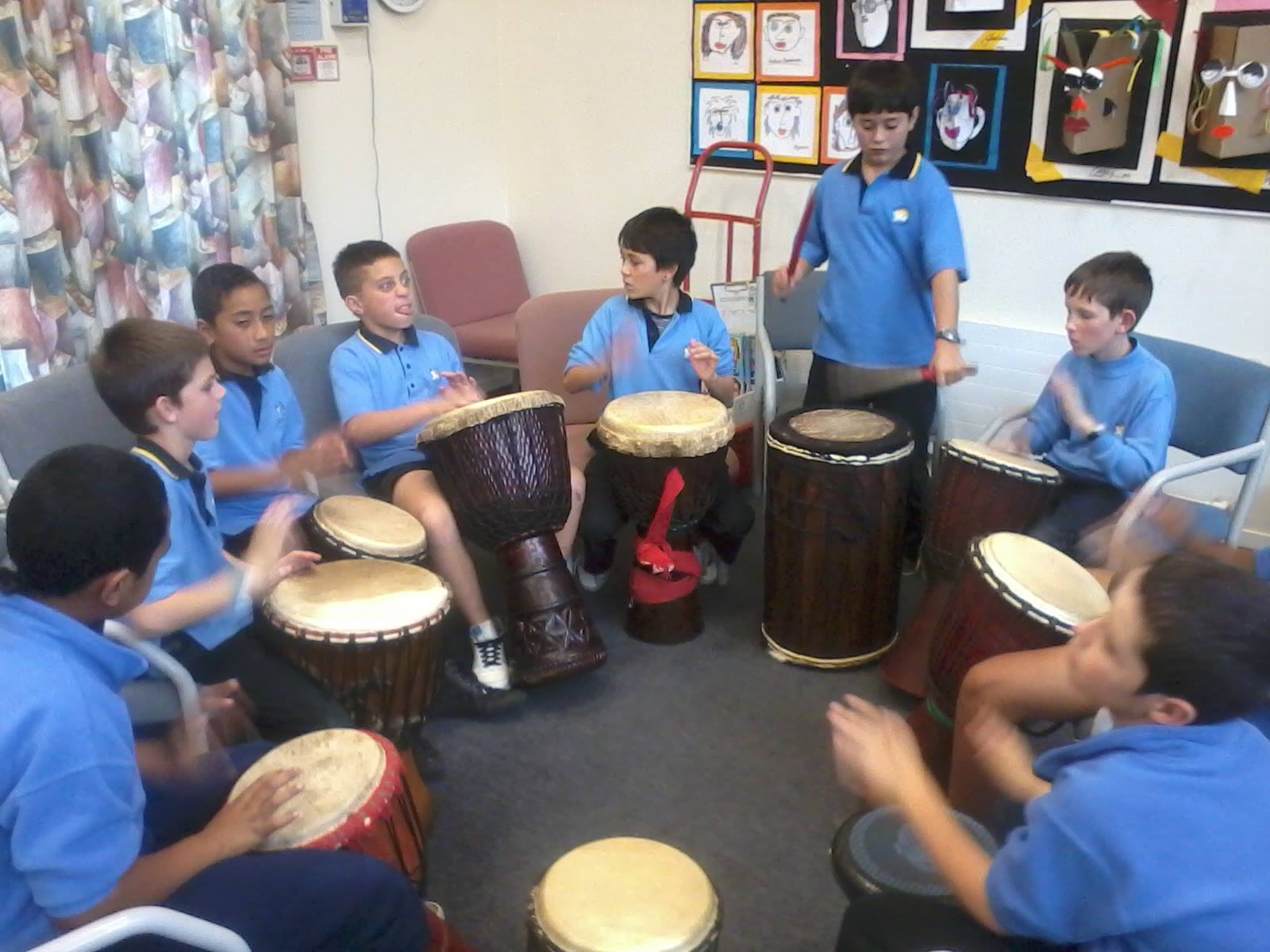 There are 3 options for school and I can also tailor a session to meet your needs:
Option 1:
A fun interactive music sessions to suit children at all ages that involves the use of drums, shakers, loop pedal, didgeridoo and other instruments from around the world.
The sessions are based around play, music, singing, dancing and games to help teach life skills such as team work, taking turns, sharing, listening and observing skills and other core values.
Learn the rhythms of Africa in a stimulating and fun environment.
I can also bring my loop pedal and we create songs that everyone gets to add their bit to (my version of NZ's got talent!).
Guaranteed to get your students rocking!
Sessions are 1 hour long but can be extended.
These sessions can be a one off or continuing sessions can be tailor made to help ongoing development depending on your needs and desired outcomes.
Option 2:
DRUMBEAT (Discovering relationships using music, belief, emotions, attitude and thought)
DRUMBEAT is a therapeutic 10 session (usually 1 session @ 1 - 1.5 hours per week) flexible interactive program that combines learning music with cognitive behavioral therapy and engages young people (and adults) who may have difficulties in the classroom for different reasons.
DRUMBEAT uses rhythm to help reach young people who are at risk of problematic health and social outcomes. It teaches values that the students can transfer from the sessions into their everyday lives. The program suits students ages 8 and up.
DRUMBEAT explores relationship issues such as:
Peer Pressure, Bullying, Dealing with emotions, Identity, Social responsibility & Teamwork
DRUMBEAT promotes social understanding and connection through a team drumming experience. It is fun, safe, creative, engaging and rewarding. Participants lift their self-esteem, learn to work cooperatively and are exposed to the therapeutic and recreational benefits of music. At the end of the program the students also get to do a performance for their school.
DRUMBEAT is huge in Australia and I am really happy to be able to help this program develop in NZ. DRUMBEAT has also just been introduced into America.
Here is a link to the site if you want to have a look and read about how successful the program is: http://www.holyoake.org.au/content-red.php?CID=80
Option 3:
African Drumming classes - Learning multi layered rhythms on African drums (Djembe and Dundun's) as well as solo parts. I teach traditional African poly rhythms as well as some of my own compilations. Drums provided.
At the end the students would be able to do a performance for the school or at a show if they choose.
These sessions can be a one off or a block of sessions and can be tailor made to help ongoing development depending on your needs and desired outcomes